The Love Terrorist
January 13, 2011
I leave open wounds.

Partially open scars.

Pain Framed as the Poison that

Corrupts their Souls.

Falsely Accused as the Sorcerer of

Heartbreak,

I hold the Remedy to their Joy.

I perform two types of advanced missions.

Personally Considered Simplistic.

Countless Eons I've spent

Perfecting My Craft -

I prefer to call them miracles;

Unexpected Sorrow & The Inevitable.

A Woman from the Lost World once said,

All God's Greatest Cures & Miracles are Hidden in plain sight.

Ironically, the same woman gave me

a rare double portion of what I

Stole;

Using it to dilute & demoralize

Your Emotions which ultimately transformed

me into "The Deranged Love Thug" - you unfortunately know now.

Or so you believe.

I too, answer to a higher power than myself.

Ideally viewed as an undercover detective if I fully existed in the physical realm

I screech in laughter, in wonder of

How Mankind could not label me as a fantasy,

but refuses to believe in a place so real as HELL.

My Place of Refuge but not my Origin.

This World could never contain me;

I am omnipresent.

Who Am I ?

I am the Cerebral Contortionist.

My Paradise: The Tartus of Your Heart.

Debated amongst many as a Demon

Or a Haunted Illusion of the Mind.

I trigger your transformation into

A DareDevil in Disguise.

I am the Love Terrorist.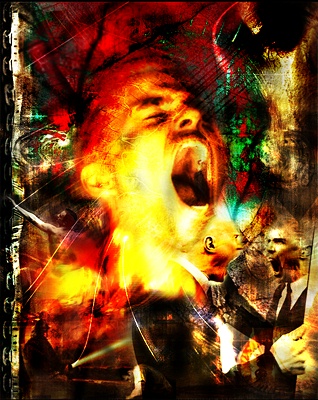 © Mark P., Woodside, NY