Thick
January 13, 2011
Poetry is.
Falls in light bursts of rain,
and it waters the earth as we wait
for the clouds to come overhead
and drench our socks:
we wait,
so that we might run through puddles
of apostrophe,
and taste the meter cleansing our faces:
iambic and spondaic,
pitter-pat, drip-drop.

We will bathe in rhyming couplets
all morning long,
then sit in brightly colored rain-boots—
that have served no purpose—
and dump metaphors from our shoes,
for they are our soles.

And we will wring concrete
imagery from sweatshirts
that have worn themselves ragged
perfecting their sensuous speech:
they are saturated and dark with knowledge
of the skies, and the gentle fresh tears
of poets
soaking themselves in anaphora.

Poetry falls in light bursts of rain,
and will soak some through to the bone.
And poetry is the reason that rains do not clear
to hang crisp or light in the air.
The smell of a sonnet, recently poured,
is thick with chimney smoke,
and heavy with the sound
of cars fish-tailing on the turnpike.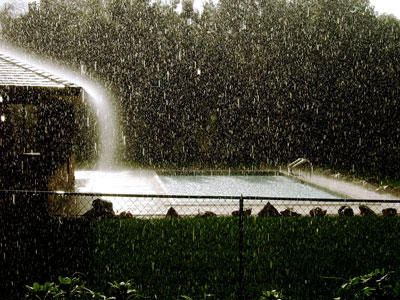 © Chelsea C., Auburndale, FL