Unseen
January 13, 2011
She died,
in a brick house,
at the intersection of two roads.
Its wrought iron streetlights and ivy-coated walls had never meant home to her;
she had never belonged.
She did not understand this world,
of apartments and skyscrapers.
How could one live in a house built by someone one did not know?
And so she distrusted the beams in the ceiling,
and was cautious of the linoleum tiles in the kitchen.
She did not know any architects,
and the man who built the brick house,
was no friend of hers.
She did not live alone, yet senility had never been good company.
The other residents were strange to her.
They shuffled small paper cards, and delighted in the glowing picture box in the


corner.
She was not like these people.
She would not watch the shows:
would not don the electric ears of her age,
and so,
she passed the time
with silence.
She had always lived elsewhere in spirit.
Beyond the brick walls and linoleum floors,
and her soul flew there in the night
to take shelter from this house of rest.
The tenants would not see her leave;
but then,
they had never seen her at all.
She was more like a ghost than any of them,
they were lifeless, and she floated on.
She was dead in that house,
though she had lived more beautifully than they would ever know.

She was born,
in a town
with only one road,
and it did not have a name,
for none had ever been needed.
She grew to womanhood in the place of her ancestors,
in a house built by the hands of her father.
He was no architect,
yet she treasured the ancient gaps in the walls,
and trusted the way the soft ground rose and fell with weathered ease.
She drew her life from that home,
so far away:
she was glad it did not know of the cities and crossroads and the complexities
of apartments.
She was at home with the distance from house to house,
and with the basket-carrying people
who were fishing-pole thin.
When each night her feet returned to the warmth of the earthen floors,
she rejoiced and kissed them,
proud to find that they were not clean.
She took delight in the dust on the simple wood furniture,
and found safety in the paper lanterns that hovered in the air.
She recalled the flickering of tradition,
and the gift that was once each new day.
She used to rise,
with the sun—
warm glow on her face—
and pick plums from the tree outside.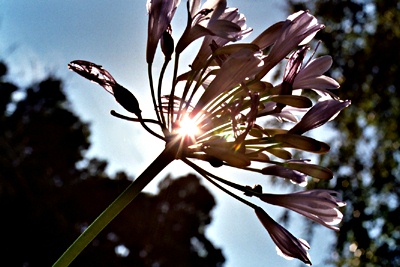 © Brandon W., Redwood City, CA