The Thief
January 13, 2011
The bleak of the night shot through the sky,
twinkling and sparkling as it laughs all night
In the midst of the crowd
a single man stood out like a raven
flying through a clear blue sky.

He was wearing a red coat with suspenders,
a jacket and two shoes,
a short beard was growing,
and an inquisitive mouth was seen.

Two beady, little eyes were starring around
filled with excitement, but mostly it held fear

A pot of gold was waiting for him,
lying beneath a room filled with lasers,
and giants carrying tsars.

Yet the queer little man still went in,
taking a Gedi sword with him.

he sang as he danced with the giants,
and laughed as he sailed past the glimmering red lights.
He landed nimbly on his feet and delivered a punch line.

he took that pot of gold back to his home,
to two hungry children
and an overweight wife.

Seeing the joy on their faces
filled him with tears
knowing he would have to leave
when blue suited men carried him
to a new home with bars and a bed

his body would endure the rule of the club
till his body was weak and thin
and his hair turned white
he would rot in his gray cell
praying for the sins that he had done

The devil would come
soon one day, and carry him to the fiery pitfalls of the Underworld.

There he would await Hades judgment and suffer eternal pain,
but he would at least embrace the wickedness of what he had done,
and gain a safe passage to Heaven and await the coming of his children.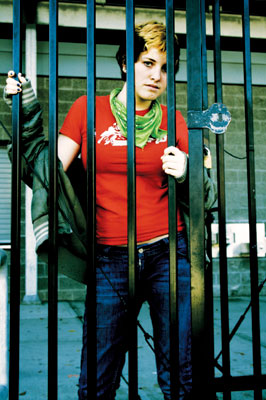 © Jessica C., Corvallis, OR