Still Wonderin??
January 10, 2011
Who really knows?
The pain it breaks me down,
every night i go to bed
wonderin why?
I pray to the sky
but i began to relize nothin is gonna answer me....
But yet i look up at the stars
thinkin ur up there watchin down on me.
I wish i could see u agian
they say u can talk to her...
But its pointless when im standin
there waitin for u too respond
i cant believe that he took u away from us...
I wanna know why..
they say the best thing is to let go...
I want to but I refuse...
My heart is still scattered in a thousand tears...
I wanna mop em up but i cant i want to drain them down the sink so they can become part of tha ocean and be whole agian...
I keep thinkin to my self..
why did he talk them...
why cant i let go?
i want to have answers
I dont wanna cry nomore
I wanna move on wit my life
this is harder than i thought it would be...
When will i move on?
I just cant get over u...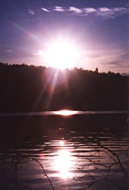 © Laurie T., Hopkinton, MA