Etched in Darkness
January 12, 2011
To the artist when I am gone,

My surroundings are mine and mine alone.
For my feelings of it are a representation of
Myself.
Myself, and my greatest battle.
I cannot help that I am for the most part
Alone.
Mostly.

It shall be the night of a full moon,
reflected in the lake's water
as I sit with my head down, afloat
in an old canoe,
veiled in black robes.

Rain should begin to fall, but the sky
left starry,
as a meteor shower begins to take place.
The wind should gently push my canoe along to
Shore, as a Raven follows.

Along the shore, ahead of me, should be a
gray sanded beach,
a cliff, a few feet further back.
Trees on the right hand side, green from Spring's kiss.
On the cliff there will be
a white wolf, howling to the solace moon.

On the shore they stand,
both possessing fragments of my shattered heart.
The Guider and The Protector;
Both are veiled in while robes.

My Guidance, he holds my compass and my map.
My Protector, he holds my shield and my sword.
Neither get along, neither return my heart,
But both will fight for me.

Their countenances I leave to you,
For no one but I could see them as
I do.
They are my Guidance and Protection.

As for myself:
My head should be low, tilted to the rippling water;
my hair falling from its clip.
In my eyes you will find--
Strength, Power, Independence, and Pain but
above all else you will see…
Unconditional love.

There is no perfect picture of myself.
For I do not have one.
I could never claim perfection in any form.
In its stead,
I give a picture of my greatest battle.
As for what the battle truly is…
That is for you to decide.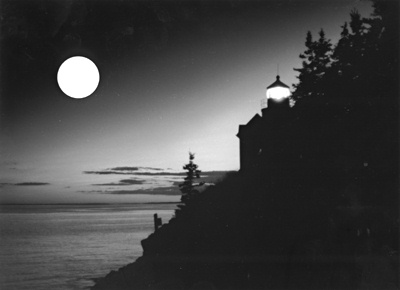 © Steve S., Marblehead, MA