Where I'm From? IDK
January 11, 2011
IDK where I am from.
IDK if I am from Southern California,
Or if I am from
Panama, Turkey, South Carolina, Missouri, or Virginia.
IDK if I represent
Death, deceit, denial,
Or joy and relationships.
IDK if I am from a house or a yard,
Probably a yard, but which one?
My grandpa's concrete garden with my hand at the step, (now smashed)
Or my Summerville tree house,
My daredevil hill in the hood in Warrensburg,
Or my descent on Panama City Base
That also no longer exists.
IDK what school I am from;
JCCA , the Oaks, Great Bridge Middle,
Grassfield High, Norfolk Academy,
Or two others whose names IDK.
I do know what I am of,
Football, love, military,
I kow I am of these things.
I know in God's stable hands
I have no weakeness or vulnerability,
Except a love for chocolate:).
I know I am of these and always will be.
But where I am from…
IDK.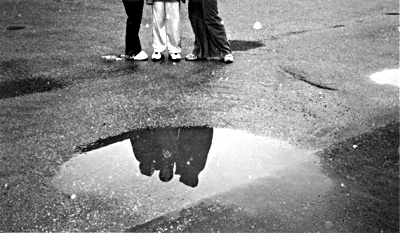 © Gary C., Pequannock, NJ