Disappear
January 10, 2011
Wind sways
The tress bends and groans
No peace tonight
The harsh pounding of rain, makes everything seem alive
The lightening crashes
The wind stronger than ever.
I cry scared of what will happen.
A child scared
I am a child.
I may not look nor does act like one
But I am one
Slowly weeping inside
Like a dying flower that is bloomed into something else.
Everyone has an inner child
Deep locked up inside
Safe from the outside world
But awake by fear its self
The simple rain or lightening
Shocks our nerves to numbness
There is no hope for that child
With in you, no hope
Except fear.
Oh fear is something that is deeper than it seems
More deeper than love, and life
It eats you inside out
Tearing the child apart
With sadness and cold scaly hands of death himself.
The child cries harder and harder
But only woken up with reality
There is no escape
Everything may seen well an fine
But the cold hands take the child and yank them back
To the dark horrid world of fear.
The child goes limp
And the sun rises
Warming the earth and the blue sky clear
With no hint of a storm.
The child is put asleep for now.
Everything is now clear and safe
But fear is waiting
Watching for the next storm to take place.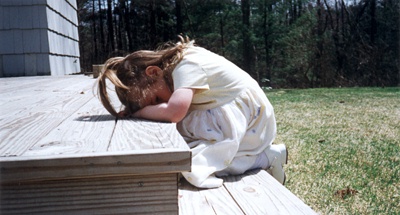 © Katherine B., Hingham, MA