Good Rooted Sir
January 3, 2011
Tall and strong,
Swaying in the breeze
The innocent tree
Gives me some advice.

Wise is he,
Yet so naive.
He tells me of the
Many colours he has seen.

??He explains about
How he's been rooted.
Rooted in one spot
For hundreds of years.

Although he's been so rooted,
He's seen so much.
"If you don't chase your dreams
They'll come to you." he says.

I look at him in disdain,
A skeptical look splashed on my face.
I stare down the stupid old tree
And tell him of my philosophy.

If you wait too long
Every chance will pass you by,
And the apathetic colours of regret
Will be all that you see.

He looks at me in surprise,
Who knew that such a young girl
Who experienced so much pain
Would know so much.

Goodbye good rooted sir,
I'll be on my way.
My way to fly
And soar away
You pathetic rooted sir.??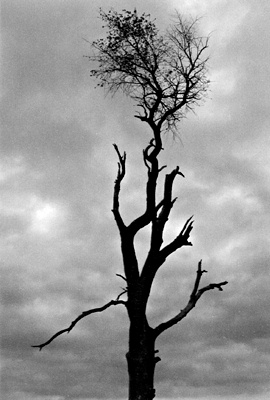 © Cassie H., Carmi, IL