Who are you?
January 4, 2011
I don't even recognize you anymore.
All these firsts spent with you. All these memories shared with you.
But now when I look at you, I can't believe we had all that. It's unreal.
It feels so far away. And that's okay.
But I am bewildered that I could even achieve this feeling of… moving on or letting go. Who knew I'd ever get over it? Because I never thought I would. But look at me; I have.
So much stronger than you thought. So much taller than you imagined.
Sometimes I still feel sad. And sometimes I still get mad. But right now, I feel lighter.
Acknowledging this has taken weight of my shoulders.
But though I feel lighter, I feel alone too.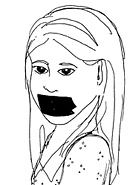 © Liza M., Vineland, NJ