Ode to My Pen
December 11, 2010
My weapon of choice
In fighting this demons
That float up out of my mind
Like scarlett balloons?
My pen.

More than just a tool
For writing.
It is a sword,
Sleek and cool,
Metallic at the end,
Able to pierce any thought
And pin it down
On this page.
I am not a writer.
I am a warrior.
I hold this weapon,
This pen,
This power.

It's just a twig.
I could have found it on a beach,
Or in the woods,
Or in a field.
But I use it to draw patterns
In the sands
And write messages for other travelers
After me,
So the will know my story too.
And maybe I can point someone else
In the right direction
After I've wandered the wrong
So long.

While some people will fly through life
On their magic carpets
Above the real-life world,
I prefer to lie in this field
Just drawing in the sands of time
With my pen.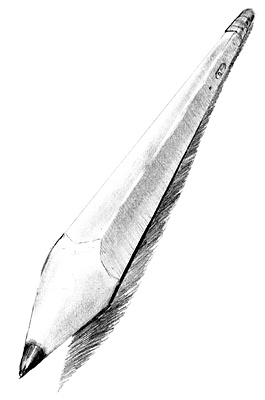 © James H., Philadelphia, PA