Delusion of a Dreamer
December 30, 2010
Music, laughter and talk bounce
through the dark room.
Emotions echo,
but everybody's smiling.

In the shadowy corners some flirt or chat.
I watch the mayhem from a large armchair,
in a secluded corner of my own,
warmed by the joyful ruckus.

Then that blonde boy,
in his black and white plaid shirt
notices me
as he rises from his circle of friends.

Holding my breath,
desperately hoping his trip across the room
will end next to me,
I become simply a set of anxious blue eyes.

He flops down next to me,
bangs falling across his eyes.
All the wonderful chaos vanishes into a distant haze
as I breathe in the intoxicating boy I wish could be mine.

His voice, low and sweet,
like waters' waves on a peaceful summer night,
washes away all unhappiness from my heart;
if only for a moment.

I melt,
trying to forget about
insecurities and
teenage worries for this wonderful instant.

A hand resting on my waist,
our bodies close,
butterflies' wings beating in my heart and lungs;
I could stay like this forever.

But forever is only for
the dead and delusional.
The popular boy, distracted by the calling of his name,
leaves me alone in the shadows.

So forever is shattered again.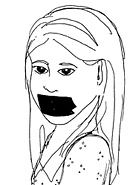 © Liza M., Vineland, NJ