Intertwine
December 11, 2010
Captain John Miller

Someone waits for me
Back in the place that I come from.
She kneels, jeans dirty with soil
As she tends to the rosebushes.

"You're so brave," she whispers to me
On that very last night.
I smile and kiss her forehead
And she tells me that she's afraid,
Eyes wide like a child's.

Now guns firing in the distance
A sharp concussion and fire rains down.
Huddled between debris and a fallen friend,
I clutch at my weapon,
Pointing…shooting…scared,
Eyes wide like a child's.

I wonder what she'd think of me
As she pricks her finger on a thorn
And prays that I'm less damaged.

*** *** ***

Lilia Miller

Many months passed by in loneliness
With you gone and fighting for my freedom.
Heart should have swelled with pride,
Full of thanks.

But those feelings fell away with the leaves
As summer snuck into autumn.
At first I thought I longed for you.
Worried for you,
Missed you.
But I merely missed the warmth beside me,
The care of another.

As I trimmed the flowers
And cut my finger,
I cried tears of silver
Because you weren't there to erase the pain.
And slowly, unwittingly, I fell into the arms
Of another.

When the leaves gave into the dull winter world,
You thought of me and felt a tug in your heart
With some unearthly knowledge
That I'd filled the space you left behind.

*** *** ***

The Music Box

Delicate fingers spin round and round,
Cranking the spring of the music box.
Small dancers await the melody,
Faces frozen in serene sophistication
Forever doomed to one expression.

Their legs curve up into an elegant pose,
Arms stretched above their heads.
Your fingers let go, the dancers begin to move,
Following the track designed for them
And their tiny ballerina feet.

Haunting and hollow, the song plays,
The only sound in a quiet room.

That man went back to his wife
And you're alone again.
A heart full of empty,
A pocket full of change,
Waiting for the warmth of another.
But there is no one
And it is silent.

You hope that the music box never breaks,
Never falters,
Never stops.
But it does,
And your delicate fingers spin round and round.

I swore I saw you there,
Sitting on our couch, no one to comfort you,
No companion to ease the pain.
And you thought of me as the Germans came,
Their hatred aimed at us.

I swore I heard the song of that old music box
When the cold cruelty of bullets
Tap-danced into my skin.
My weak hand held a shaky pistol,

And I fired two lame shots
Into nothing.

When the music ceased, tears came to your eyes
And you were eager to fill the silence once again.
But before your delicate fingers could spin round and round,
The doorbell rang.

Two men with bowed heads offered you a flag.
They didn't have to say the words
For you to understand.
But they whispered their condolences,
Left you standing on the front steps,
With no more beauty in the world
Except for the red of your rosebushes.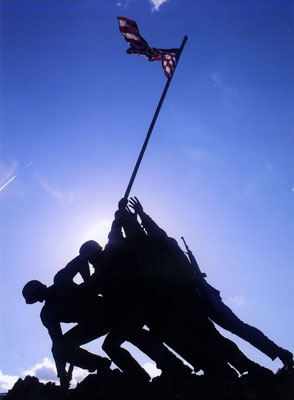 © James M., Glendale, AZ