Standing Strong
December 23, 2010
One night a girl looked around her paper house and thought about her paper family.
She realized that this was a horrible place to be, just like the rest of the world, it had been taken by violence and hate.
The girl was so tired of all the resentment and jealousy in her home and the world that she lay down o her bed and shut her eyes tight, and went to sleep.
She slept so she wouldn't have to look or think about this horrible world anymore.
One morning, many days later, the girl woke up.
She got up as she had everyother morning, yawned and looked in the mirror.
Only this time she screamed because her reflection showed her as a thin paper doll just like everyone else.
In her sleep she had lost herself because she stayed so hidden she blended in with the rest of the world.
She wanted nothing more than to just burn the house down out of anger and sadness and in that moment she realized she really had become hateful adn violent just like everyone else.
The girl ran outside and let out a wildly sad scream and knelt on the ground crying, for her worst fear had happened.
She cried and cried and as she did she noticed her tears melting the paper away.
In her sorrow and regret she had become herself once more.
From this she learned that closing your eyes and hiding only makes you exactly what you wish to become.
So with this lesson in mind she stod up tall and strong and went to make a difference in the world.
No matter what anyone said she would not be sucked back into the malevolence of the world, she would finally stand strong.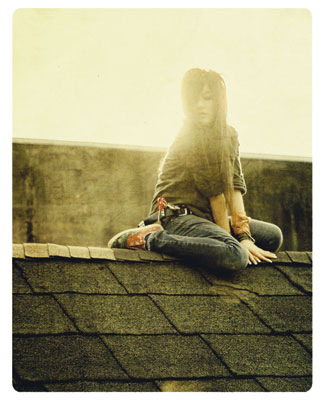 © Hailey J., Lake Oswego, OR