A Thought In Flight
December 20, 2010
As if you could jump off a cliff and fly
Sure you could easily try
But when you take the time
To stop and open just one eye
You will soon find out
That without a shout of a doubt
Your going no were fast
Free falling
As your crying out
Wasting your breathe
As if someone could hear you
You continue to scream HELP, HELP
Finally its quiet
The last sound was a thump
As your body fell against the cold ground below
What you don't realize
Is that I am not talking about reality here
I am talking about thoughts
Thoughts of just wanting to disappear
Seeing everything true and clear
Wishing someone would care
For love without loss
joy without probable cause
A metaphorical gauze
To patch all your wounds
A needle and thread to keep
The fresh cut bound
Looking around
Stumbling through the dark
Mumbling words no one can comprehend
Please tell me
Do you understand
The idea of sinking sand
A house sat on un solid ground
Can not be declared sound
So as you stand there
Reading my work
Tell me something
Just one last thing
Not who.
Not what.
Not when.
Not where.
Not why.
Instead this time
Answer me this
Who not?
What not?
When not?
Where not?
Why not?
You may not be able to jump off a cliff and fly
But you could easily pull open the parachute.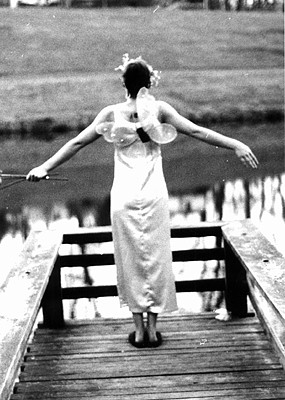 © Jennifer T., Cincinatti, OH