In Memory of You
December 20, 2010
We all know there's a day when our breath fades away,
And our heart ceases beating its rhythm.
But how do we know if today is our last...
If we've run out of the time we've been given?
Who decided that one life should end so abruptly?
With so much left to see, feel, and do?
Remembering smiles and laughing for miles,
Is what with get us all through missing you.
The most precious thing we receive in this life,
Are the moments we cherish with those that we love-
Who sang with us, cried with us,
Fought for us, lied for us...
Showed us that just living was more than enough.
So reminisce and relive it, just don't get lost in it.
Because that's how we all go insane-
Trying to stay in the past of what could have been;
Just remember his smile, his voice, and his name.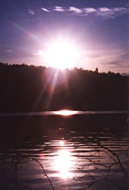 © Laurie T., Hopkinton, MA