lies you never keep your promise
December 16, 2010
The promises you promise me are always un-kept,
The words you say to me never are true,
Everything you do,
Is making you seem so unreal,
You tell me you will never hurt me,
Whatever,
The lies you tell me,
The tears you make me cry,
Are really tearing us apart,
Why don't you understand.
It makes me want to cry,
I tell myself,
One more promise broken,
I will never speak to you again,
But it never occurs,
One long embraced hug,
I forgive you again.

It makes me angry,
It makes me sad,
It makes me curious,
Why I can't stay mad.
It never occurred to me,
Till the other night,
When I was tossing and turning,
And dreaming about you.
Dreaming about how many times,
you've broken my heart,
Made me wish I was never alive,
Made me dream I could just leave,
Get out of here,
Get out of town,
Get out of this place,
But it's not happening,
Not for a while anyways.
Days you seem so nice,
Days you make me feel loved,
Days you make me smile,
Days I wish never would end,
But they do,
They always do,
You can't help that,
And neither can I.
So I guess I will just have to make it through,
Through this horrible time,
It may be tragic,
It may be awkward,
It may make me want to cry,
It may make me want to die.
But I will survive,
With friends,
Family,
And loved ones,
I will make it through this,
And its all because of you.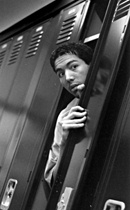 © Paulina A., Marblehead, MA