Desire (10-17-09)
December 14, 2010
My whole body aches as my silent scream is heard by me alone
I can't feel my heart....Is it still beating?
I hate myself for it and I want to change it,
And yet I don't want it to change. Because I've never felt this way.
I feel like crying but I can't move.
It hurts to breathe...it hurts to think.
I don't want to be here right now.
Somewhere else....somewhere alone.
Cold, dark.
Alone.
Maybe I can cry then.
Maybe I will die.
Because this hurts more than death.
This is torture.
Pain.
Watching something you want for yourself be taken by someone else.
And someone you admire...a friend.
Someone who is so nice to you.
And you can't do anything because it would hurt them both.
Destroy something that is perfect.
Perfect,
Until I came along.
I like what should hate
And I keep what should let go.
But I won't. Because of the shard...
The last peice of hope that I have left.
The smallest peice there was.
The tiny shard of false hope that I will hold on to.
I will grasp it tightly,
and the tiny shard,
Will cut deeply.
Damage me...
But it is mine.
And I will keep it.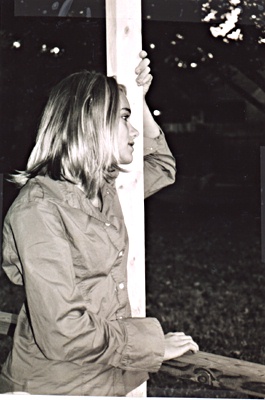 © Tiffany A., Southaven, MS