Last Farewell
December 15, 2010
Farewell my love,
For I will not again,
Look upon thy face.
My father is sending for me.

I will not forget thee.
I ask the same in return.
Thou art more handsome,
And brave than any other.

A thousand soldiers,
You would stand before.
For me, you would,
And I, the same.

Remember when we walked the beach?
Our feet bare,
Our hands overlapped with perfect fit,
As if they were molded to shape.


We wrote our names in the sand,
But the waves did wash them away.
Shall our love flee like what was once engraved?
I think not.


I do believe our love will last.
Last as though our names were stone,
Standing above the shoreline,
Keeping place.

So I send this farewell,
In hopes that thou feels the same.
With weeping eyes and a heavy heart,
I hold my pen in hand, writing this goodbye.

If only thou were to see me off.
Would thou kiss and part?
Would thou come on horseback?
Would thou beg to come with?

I will not forget thee
Thou art dwelling in my heart.
So I say this not as a goodbye,
But as a remembrance of our love.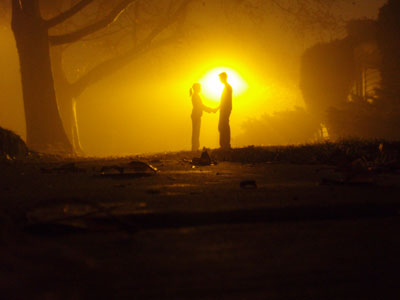 © Tanner H., Kaysville, UT