The Things I Carry
December 19, 2010
I carry with me the age of responsibility;
eighteen years and counting.
I carry the curiosity of a cat;
constantly asking questions.

I carry with me the stress of adolescent years;
nagging, sleeping, working.
I carry the distrust of the people around me;
constant vigilance.

I carry with me the memories of my grandfather;
racing in the backyard, knowing I will not win.
I carry the love of my family;
so big and accepting.

I carry with me the duty of being a big sister;
the eyes of my brother eternally watching my actions.
I carry the patience of a growing tree;
not to worried about the aging process.

I carry with me the friendship I have gained over the years;
the people I would take a bullet for.
I carry the spirit of a tiger lily;
unquestionably confident with color.

I carry with me the dream of living in Pittsburgh;
beautiful city skylines, bridges, and tunnels.
I carry the artistic ability of past and present family members;
Grandfather, Mother, Aunts.

I carry with me the idea of future;
the idea of what will happen.
I carry the education and experiences I have received and witnessed;
the gift of intelligence and knowing.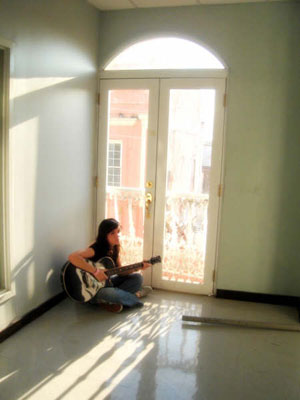 © Eveliz V., Bayamon, Puerto Rico