A Day In Washington
December 14, 2010
The sharp cry of the alarm clock.
Stillness and peace before the storm.
The howl of a vengeful wind.
Splash of raindrops colliding with the concrete.
Leaves holding on for dear life.
Roots of trees aching for freedom.
A bulb yearning for fresh air.
Giggles of soaked children playing in puddles
Whistle of passing automobiles.
The heat of the never ending flame.
Solemn soldiers raising a flag of hope.
Gun shots echoing in the hall of freedom.
Flash of ideas and light at the flip of a switch.
Tales of fallen men of valor.
Calmness of waves flowing across the shore.
Recordings of men of great prestige.
Roar of plane engines overhead.
Crunches of fallen, Autumn leaves.
The chirps of new born blue birds.
A moment of silence for those fallen.
Flash of colors as day changes to night.
Lingering of past citizens.
Sobbing of forgotten souls loss to the flame of war.
Ghost stories told over a cracking fire.
Marsh mellows roasting on the open fire.
Fire flies drifting so high in the night sky.
The sweet, soft embrace of sleep.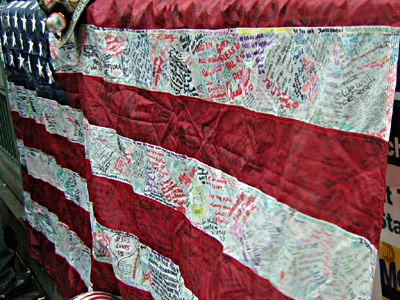 © Brittan S., Chino, CA