dreams will happen
December 15, 2010
I do nothing all day
except dream of that city far away,
where i'll be
when my dreams come true,
alot of others feel that way too.
hollywood,is where i'm going
i have confidence,
and i know its showing!
i won't be held back,
i can't be stoped,
not until i reach the top.
i'm gonna be famous
the whole world will know my name,
im gonna put all the doutera to shame.

im gonna be rich
and the world will see,
dreams will happen
if you let your
imagination rin free!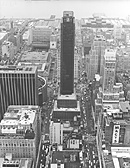 © Pamela T., Norwalk, CT