The Cure
December 9, 2010
-Kiss¿
Kiss it?
Kiss off?
Kiss up?
What's that going to do?
Make it all better, huh?
Where's the doctor?
-Maybe scream¿
Screaming.
Scream out?
Scream over?
Scream loud.
Scream now?
Hmm and wake the neighbors?
Nahh ,Bad idea.
Leaving.
Leave it behind?
Should I leave?
I should leave.
Leave out?
Leave in?
Get up and leave?
Leave me alone.
Squeeze me.
Squeeze through.
Squeeze hard?
Squeeze to relieve?
Squeeze!
No.
Lets spill it.
Spill the beans.
Don't spill the milk.
The spillway?
Spilling is a habit.
Where's the doctor?
Kiss? How?
Scream? Why?
Leave? Who?
Squeeze? What?
Spill? Where?
A prescription for time.
Ahh relief,
The remedy.
The cure.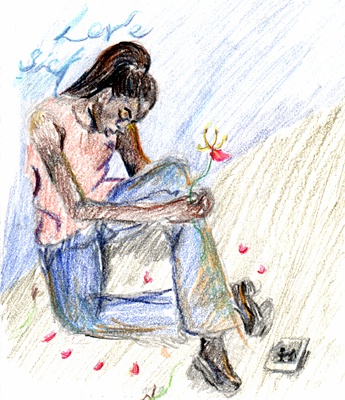 © Sherell B., Philadelphia, PA