A Single Rose
December 13, 2010
A sinlge rose is all that's left
Of the love that we once shared.
I thought I'd gotten rid of everything
But I guess this slepped my mind.

A single rose from the dozen you gave
Is the one that meant the most.
The one that showed a true love
From the man that I once knew.

A single rose still remains
Even after all these months.
It's what I kept and hold so dear
With the petals full of tears.

A single rose holds the past
The memories I'll soon forget.
I hope that when you see you'll know
That you still own this heart of mine.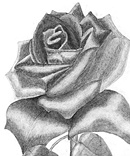 © Nghi L., Phoenix, AZ