The Touch of Water
December 10, 2010
you really enjoy the water don't you?
and I turn to myself
why do you enjoy the water so much?

My eyes burn. Not from the salt
embedded within the foam but from
the sting of the coldness the sting of
the memory I come back to
and all at once I'm aware of
how unaware
I am at how empty I am
without her.

Then she's here,
"you really enjoy the water don't you?"
she smiles awaited my reply
god I miss her

but waves keep waving
keep flexing their broad muscles
and continue on. Continue to crash
continue break, continue to fade.
Away from my bare shaky legs and
probably—but not for certain—closer
to yours. Where that is,
I don't know.

So I keep my eyes sealed tight cursing
the open air, ignoring that you always
promised you'd never leave.
But waves keep crashing inward and outward
and all that is in-between and I suddenly
remember how you always told me,
never break a promise
and even though the words resound through
my head I get that your absence doesn't
stop the salt from falling from eyes now
nor splashing up into them.

So it is within the waves
I stand,
keep a straight face, because today
won't be the day
the salt falls from my eyes nor
splashes up into them.
But god I miss her


Still I can't, won't, don't understand
what it would mean for me to just
let go
of what lay in front of me.

"you really enjoy the water don't you?
And back into myself,
Why do you enjoy the water so much?

I'll keep a comfortable distance though,
between my thoughts and reasonings,
steering away from the truth
that this water that falls onto my head
from this shower head, is not the same
as the water we once splashed in
together.

The water turns from hot to bold
and as the faucet runs dry, so does too
your familiar face.

The pounding on the door
and the, "hurry up other people need to get in there"
will not erase you for good, but I know that when I step out
only the small water droplets that blanket my body
will not ease the pain that you won't be there to wrap me up
tight, and plant a kiss on my wet forhead,
like you did when we were young.

These water droplets won't lay down next to me
like you did on Christmas eve, or steer in close
to rub your nose against mine, like you always did.
They won't calm the tummy ache from eating
too much double fudge chocolate cake—even though
you told me not to.
They will not respond to me when I slam the front door
behind me as I call out, "mom?"

Then there you are.
"You really enjoy the water don't you?"
And to myself,
yes, I really really do
but I know why I did then
and why I don't know, and
why I won't until I see you again someday.

I remember when we stood in those waves
together, when I splashed you and you screamed but
I laughed and in return you laughed too.
I remember the touch of water
almost as clearly
as the touch of you.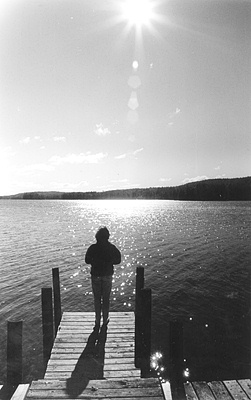 © Beth S., Marblehead, MA