Flying Paper Lanterns
December 1, 2010
The night sky, both still and silent.
Not a single star.
A little boy stares from his window,
just waiting for something to light up the sky.
He sighs impatiently as he stares at his reflection.
Contemplating.

Across the river, a girl in braids smiling.
Her family every year love to light up the sky
with flying paper lanterns to remember their loved ones.
She picks pink tissue paper with a purple crayon heart.
Her father lifts her up and puts her on his shoulders
and tells her "let it fly to the unseen stars."
Her small fingers lose grip and watches it fly
like angel's wings.

A wave of lanterns are released one by one.
They light up the sky like embers in a fireplace.
A small piece of sun in each lantern.
They dance and they sway to their own music
without thought of who might see their light.

Like a beacon of hope, the boy's face turns from sour
to complete joy. He runs across the hall screaming
"Mom!! Mom!! Look at the stars!"
Sleepily, she gets up and sees the lanterns.
Dancing candles in the air.
She smiles as a pink paper lantern
with a purple crayon heart floats next to the window.
She nudges the lantern to fly higher, reaching towards the universe.
"These are lanterns that keep the moon company where there
aren't any stars", she said. The boy's face lit up like a Christmas tree.

She holds the boy close as they gaze into the infinite sky
now illuminated by human stars.
Gleaming, glowing, floating.
A thousand mini hot air balloons
for the thousand eyes that just might see.
As they dance across the sky and when
they are far away enough, they too become
stars.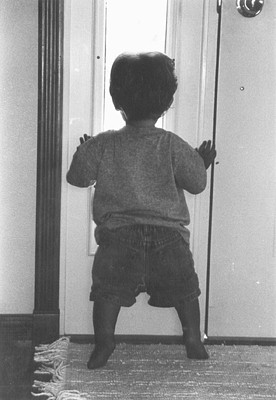 © April D., Whitehall, MT