To Kiss A Stranger
November 28, 2010
Anger, rage, sadness, and grief,
these are the things that I feel.
Death's cold fingers are greedy
and take away all that is dear.
I begged Death not to take him away
but Death will not to be negotiated with.
Death takes many shapes and forms,
like the Cancer that took him away.
I screamed and cursed at Death
but It did not hear and did not care.
Never have I despised or hated anything more
than what Death had done to who I loved.
Death was not kind or peaceful or relieving.
It slowly took his life one pain after another.
I've watched Death have Its way with others
but watch is all I can do as I stand helpless before It.
I can't fight It, nor can I stop Death in Its tracks.
But there are people out there who are just as angry.
There may not be a cure for Cancer... yet.
We haven't given up.
Until that day comes, we can only hope to blind Death,
to bind It, to keep him It bay and away from our loves.
I believe the cure will come and save thousands.
And when that day comes I will kiss a stranger.
The stranger who made it possible.
Then I know he will be able to rest.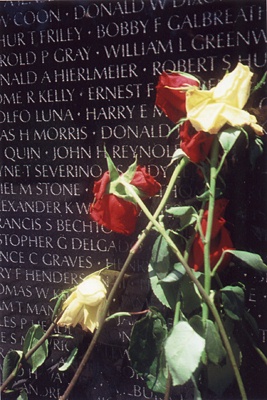 © Justin R., Angola, IN