Lost Along the Way
November 28, 2010
She runs.
She runs and
runs and runs.
Out the
door,
down the cobblestone path, and
into the tall green grass that hasn't been mowed since before everything fell apart.
She runs and lets the grass tickle her
thighs,
lets her bare feet submit to the
sharp, rocky dirt,
lets her dress flow in the wind.
She is
young, she is
plain, she is
not what she wants to be.
She runs past the pond
where the crickets would chirp,
runs past the tree
she had carved her name into in crooked sloppy letters, and runs until
she can't run anymore.
She has been here before,
but she doesn't know where
here
is.
She wanders far,
further than she had ever gone before,
and
she comes to where she thought she wanted to be. Dark, tall trees
loom
high above her head, and a beetle
scampers away
below her feet.
Through the darkness and the underbrush,
the girl finds the path, quite undefined.
It is thin and rocky,
uncomfortable and uncertain,
never knowing where her foot may slip.
She carefully makes her
way,
but doesn't know where she's headed towards,
where she wants to be,
or how to find her way home again.
Seeing a bush with blooming flowers,
she stops
and takes a closer look.
Small, jagged rocks
clip
at her feet, and the girl feels the pain,
feels the blood trickle down, but
does not call attention to her wounds.
She would rather make her way
imperfectly and quickly
than precisely yet slowly.
She has
nothing
to guide her way;
her problems mean nothing to anybody else, for there is nobody nearby to listen to her laments.
This is nothing new,
she understands,
and she goes on as she always has.
As the egg yolk sun sinks
behind cotton ball clouds,
she does know
that she doesn't know
what she is in search of,
she forgets why she had begun to run in the first place,
and she is afraid to admit that she may have gotten

lost along the way.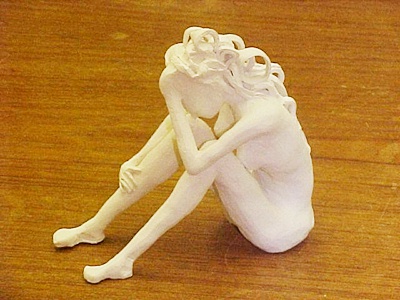 © Christine H., Brooklyn, NY