Panda Bear
November 30, 2010
Hello, hello
says the panda bear
with high spirits: she so inviting
soft, fluff and adoring shooting for the stars
with eyes that twinkle with enchantment
small yet big
social yet so quite they wonder why
a loving touch thats just enough
steady & ready;for action
family gone but still around
a true cuddle pal
always on a hunt for something to do sweet sounds will ignite you with a smile
as she crys out to all her friends
ROAR!!
PANDA IS ME!!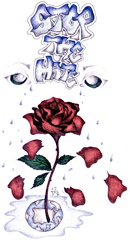 © Diana G., Phoenix, AZ