"I am From a Family of Fun"
December 16, 2010
I am from rusty old basketball goals in my new driveway,
tattered old cards that were unbeatable in my hands, and
cousins upon cousins coming over to play.
I am from throwing the ball over the roof with a call of "Annie I over."
I am from Los Hermanos ordering steak nachos with a refreshing orange Jarritos.

I am from garden work with Grandma under the sun,
clay fish by the kitchen sink made in Art, and
trampolines in the ground jumped on daily.
I am from plum and apple trees used for ammunition.
I am from Duffield's pool I swim in for daily refreshment.

I am from Salt Lake Valley, the Disney World of my life.
From long walks in the sun, sledding down hills, and hikes looking over an orange sunset canvas
Mt Ensign my outpost where I look out over a beautiful valley setting with the lights of the city and the blue expanse of the Great Salt Lake.

I am from London, England the most thrilling vacation of my life.
From exciting stories, fascinating history, and an electrifying mix of the past and present.
Ben's Cookies is where I left my taste buds behind in the hope that I will always be able to summon the rich cocoa and warm, crumbling cookies.

A few memories standout like words etched in stone, never fading like this one…

Another dark, cold London evening is here but the huge London Eye will light up the night. My family and I board a capsule over the dark Thames.
We slowly went up and around the colossal Ferris wheel, climbing an invisible mountain in the middle of London. My brothers and I, dark shadows, sneak upon our unsuspecting sister and parents. We reach them and call out with a grab," Saved your life!" We take our rewards of shrieks and whimpers and walk away to find our next victim. It seems like we might reach heaven soon and I shiver not from the cold but from a phobia of heights. Everyone feels a little fear,
but we are all having the time of our lives and wishing the evening would never end!

My family is like a tangerine because we are full of brightness, bad bites, and good bites, but no matter what bite I get I will always love them more and more.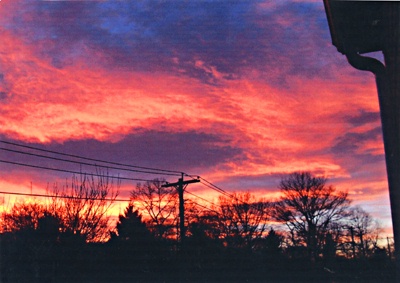 © Robbie M., Milford, CT