Saying Goodbye Is Only the Beginning
December 4, 2010
My world is spinning out of control

Yet I'm trying so hard to get a hold

Of who I was and want to be.

But this person in the mirror isn't me.


She's so numb and she's scared to death.

Waiting to get past life's simple tests.

A figure of my past but not who I am.

A part of me who has yet to end.


She's a ghost of three years gone.

Who appears again when all is wrong.

Taking my life for her own.

Leaving me breathless and all alone.


And I can't stand her staring back at me.

At a lifeless, torn, and hopeless being.

Wondering when she'll set me free.

So I can be who I need to be.


A girl so strong and never lets go.

The girl everyone once used to know.

Who'd sing in a storm and dance in the rain.

Who looked after others and endured the pain.


Who kissed with such passion, and held on so tight.

Who loved with all her heart and fought so hard in this fight.

A girl that laughed and a girl that smiled.

Some things that this girl has been faking for awhile.


And sometimes I see that girl is still a part of me.

Fighting so hard to be set free.

In my eyes that special gleam.

And in that rare smile that stretches far across the teeth.


Yes she's still there, and she's waiting patiently.

As this shadow is making it hard for her to breathe.

But she's gripping onto anything she can to save myself from me.

But slowly so slowing she's slipping away from me.


And I beg her to hold on tighter and not to let me go.

Without her I'm a person no one seems to know.

I'm gripping onto the final piece that I can feel.

And everything seems so dark and this doesn't seem real.


This is like a dream that's taken its control.

And there seems no way to gain back my hold.

But I'm trying, yes trying, trying so hard.

But in the end, it's another scar.


Please? I'm screaming out to you.

Don't let me go, I don't know what to do!

I've lost who I was and you're all I have left.

I'm gripping so tightly, I'm doing my best.


But your smile is fading, and your love is dimming.

Your life has darkened from the once glimmering.

Your hope is gone and you're so close to giving up.

Slipping, falling, till you've had enough.


Please don't leave me? I silently scream.

But she's so far gone I'm not sure she hears me.

And here I am now waiting patiently.

Hoping for her oxygen as I can no longer breathe.


And it's so silent.. so empty..

Watching the last piece of myself slip away from me..

And I tried to hold on, I promise!

I tried to stay strong but you're gone..


And here I stand still staring far into the mirror

But this time not surprised that there is nothing there.

For all I had left, even the slightest piece,

Is no longer a piece that is a part of me.


And here I stand so numb and so empty,

I gripped so hard… she gripped so hard.. but we both kept slipping..

And now she's slipped away from me too far this time.

The piece I've lost and will never find..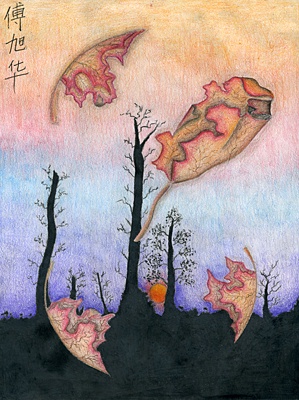 © Becky F., Sacramento, CA