What Have I Done
November 29, 2010
What have I done to deserve the bitterness of fresh wine?
Was it because I didn't let it sit long enough, or was it that I didn't make it with sweetener, or could it be that I didn't choose the right fruit?
No the fruit I have chosen is correct, but maybe it was not ripe enough; did I not let it hang long enough on the tree, so it may absorb all the nutrients the tree has to offer it?
No it was ripe.
Well then tell me please what I have done to create bitter wine!
The fruit tells me nothing, keeping its lips sealed tight.
I ask it, beg it, plead with it---- to give me the answer I long for.
But no it sits there looking at me as if saying you know what the problem is.
I ask the press, "What have I done to the fruit while you pressed it to make wine."
But it gives me no solid answer.
It only tells me: try harder, you'll get it eventually; Good luck for good will come soon.
But as I think harder I come up with empty resolutions and the fruit still does not talk to me.
It just sits there arms crossed and nose pointed up uttering not a word.
All the while I continue to drink bitterness still asking ------------WHY?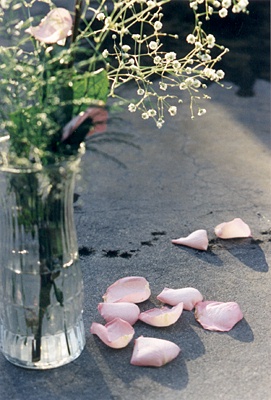 © Kathleen S., Maumee, OH