Testing Sanity
November 23, 2010
Its moments like these,
That I can't help but to question
My very sanity.
I know what must happen,
I also know it can't.
To move on with your future,
Is to let go of your past.
Something that grips me like an anaconda,
Sucking every breath out of me.
I try to move on,
But I always end up in a place I can't escape.
The place where daydreams and nightmare collide.
I rarely dream at night,
For all I see is the past.
But when you don't dream,
They follow you into the day.
I stare off into space,
My face blank as can be,
And I hear the sounds of my past.
Killing me slowly.
I watch the horrors that seems to follow,
Over and over again.
I know I'm pathetic,
A stupid teenager complaining about how hard it is.
I refuse to cry,
since it taunts me so,
But I can almost feel a dry tear rest on my cheek.
I've told some,
But very few,
How much I've hurt over the years.
And I've told no one,
Not one single person,
How I've made it my present life.
I didn't mean to,
I swear I didn't.
But it followed me.
Just when I began to let go,
It began suffocating me again.
I'm not sure if I can escape it this time.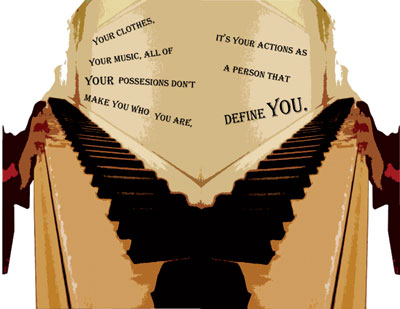 © Brad F., Stewartville, MN