The CLosed Door
November 25, 2010
The lights are out.
I'm alone down here in the darkness.
One by one, I ascend the steps that should have lead to light.
I can't get out.
As I pound and I kick and I beg for you to let go of the doorknob,
The door swings open
And I'm pushed.
I tumble backwards down those steps.

Shivering in this seat, I see the doorknob start to turn.
The shadows of your feet become thicker and
I can see your hideous face in that mirror.
That mirror will show you the reflection of my disgusted look.
Anger flushes within me and I get up and lock that door.
But you have a key.
And I can see the doorknob start to turn again.

Any where we went, you'd follow.
I wanted that home, but you took it.
I never expected to see you standing there.
Why is this the only time you wanted the door closed?
You've gone to somewhere else.
But I can't see,
What if you show up out of nowhere?

I'm standing face to face with
The closed door.
Is it safe to say you're gone for good?
I don't want to open that door
And see you standing there.
I don't want to see the doorknob slowly start to turn
And have your hideous face come into focus.

Because I've been through that before.
That's why I'm staring at this closed door.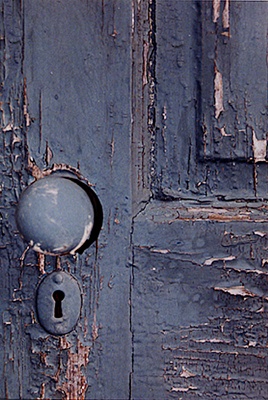 © Samantha H., Savannah, GA