Migration
November 24, 2010
Crossing the porch in the hazy dusk,
I take in the tangy sharpness of the air
tainted by decaying leaves and dying sunlight.

My cat crawls into my lap as I sit
on the edge of my dominion, feet hanging off into space.
Bumping her head against my hand and purring
kitty begs for attention but I push her wet nose away.

Light shatters on river water in the sunset.
In the distance, dark clouds' underbellies are coated pink
like strawberry sorbet or cotton candy.

Shriveling weeds collapse under the strain of life
even though the first frost has not arrived.
Green tomatoes still hang on the vine
and a few deluded birds chirp nearby.

I kick my off my shoes and do away with my socks,
stepping forward to the very edge of my province.
Icy brown water laps at my bare toes, turning the flesh red.

It hurts, that frigid water, cruelly keeping me in.
Stinging my feet when I try to step forward.
That menacing electric fence.

The chinks are rusty and breaking in places,
but it still hurts to touch it.
So I run away.

I reach out for handfuls of those blushing clouds,
Scooping them into my hands.
Tasting a sharp sweetness at my lips,
but they quickly turn to ash in my mouth,
and I spit out sand into the water.

I thrash against bonds that hold me down
Chains of my own creation.
Made of fear and laziness.
I despise my introverted self.

Ants move slowly in the cool air,
gathering the few last seeds of summer.
While a hawk glides silently overhead.

And I stand there in the sunset,
my feet turning purple in the muddy liquid
swirling around them.

I stand here in the dry, crisp air
while moist, yellow leaves fall in a curtain
as a western gust blows life back into dying veins,
giving them their final dance.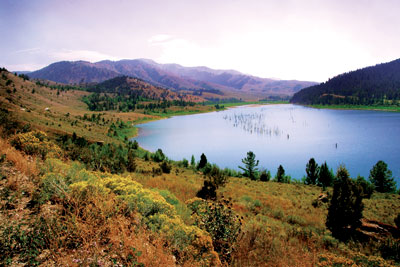 © Matt S., Glastonbury, CT