We Be Strong
November 21, 2010
My soul, my heart, my life,
Along the Missouri River.
The summer sun burns our backs,
We care for our people and we work hard for them.
Our women are gardening the seeds,
So that we can eat in the winter.
Our men getting ready for the hunt tomorrow,
So we can feast and worship the gods.
I make the baskets with my mother so she can start the weave.

The men shave their heads,
We put all over our bodies.
POW! The fire shoots up into the sky.
The gods hear our song and see us dancing for them.
People around me tell the story of the Sky and Earth people.
Thunder Horse,
comes with a pale man.
The man looks like a bear that has just been shaved.

The cold spring morning falls,
Continuing our strenuous journey.
Our people dying along the way to a new life.
Step by step.
Day by day.
My heart is breaking, crying like a baby calf left behind in the dust.
We have too many ceremonies for the dying and the sick.

We are here!
Our bodies fall to the ground like an apple from the tree.
Our people in joy.

My people and I search for a plentiful wood,
search for red meat,
search for water.
We work hard so we can live good and be free.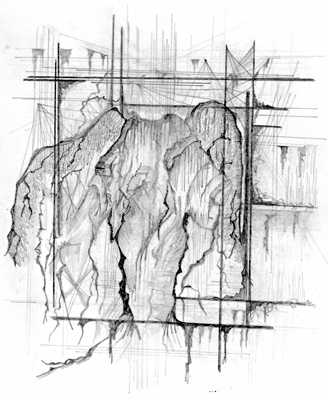 © Alexander G., Whitman, MA