Broken to Pieces
November 22, 2010
No one deserves a broken heart.

To give an try

But only get back uncaring words in return

Wasting your time with tears on your face and leaving you just to cry

Always to wonder why it fell apart

Taking all the love notes out to burn



Months, days and hours of love

Giving yourself away that first time because you fell

Emotional pain feels like the worse

A shield of untrustworthy you wear like a glove

Living your life like your in hell

You ask him if he misses you and you get "of course"

But you know the truth.



That feeling of happiness while your in his arms

That kiss of passion and bliss

To look into his eyes and see what love truly is

You were only so foolish to fall for that lie and charm

You thought you were happy, but now your left with distress and alarm

Its not your heart anymore, youve lost it, its his.



Love is a funny thing

Its here and its gone

A change of mind had turned your world all wrong

Whats wrong with you?

One second you're in love, and the next your in tears.

As if your whole life in the last five months were lies and your bodys been seared

He can move on quickly since he has her

but your left with a broken heart to face for years.



The memories you have is the only thing you have left

A missing hole from your chest

The charge; theft.

It was stolen, taken from you for months.

Now torn to peices, left only to crunch.

You gave it away full and beating.

And it was returned torn and bleeding.



Does he even care?

Does he even know?

That all you can do is cry in a little ball.

That you wake up every morning with tears streaming down your face.

That every memory haunts you every second of ever day.

That every time you picture him, your heart begins to race.

That ever part of your being reaches out just for those few words that you will never hear from him again.

No. He doesnt know.

And no. He doesnt care.

Because if he did he say hes sorry and make it show.

He would tell you that seeing you broken is to much to bare.

But he doesnt.



Because he has her.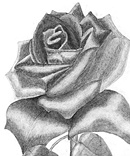 © Nghi L., Phoenix, AZ