Journey Through Tears
November 19, 2010
'Every journey into the past is
complicated by delusions, false
memories, false meanings of
real events.' Mine says otherwise.
Gliding through my past, memories
repressed resurface like a drowning
child gasping for life as he bobs in
and out of murderous water. Scissors
traced with a deep crimson liquid slice
through my thoughts, ironically easing
the pain. The blood, now colorless,
evaporates when my calloused finger
grazes the blades. An array of emotion
runs wild like a cheetah darting toward
its teasing, mouth-watering prey.
Betrayal forces itself on to me, pinning
my flesh to sharp, silvery springs that
dig deeper within, strengthening my
fear. It uses me then turns to dust.
Doused in heartache, my organ
seeps its life and struggles to pump
with the little that remains. Tears
descend like razor blades, stinging my
frail, porcelain face, just like the hands
that strike. Shoved around by ridicule
and disgust, I am beaten to my breaking
point, dangling from a single thread of
hopeless faith. Rub my bloodshot eyes,
drowned in hazy smoke, with clammy
palms, try to clear the blur of delusions,
bring them to a higher resolution. They
are complicated memories but not
false.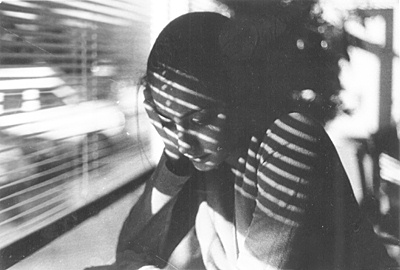 © John O., New City, NY