Tunnel of Shadows
November 3, 2010
Than.
The soothing sound of
whispers grow stronger
each day.
With doubtless love and
destructive memories.
And yet I
calmly sit and stay, in the center
of my Tunnel of Shadows.

The water is still,
turning a murky red.
The trees droop down with
lifeless ends.
Here, in my
Tunnel of Shadows.

Blue skie, no more.
Only a gray tint of desperation.
A heartless child overcomes my
trembling soul.

Now.
Winds blow lightly through
my dark hair.
Trees dance with beautiful life.
Gray skies flash blue once more, reflecting off clean water.

Though I only sit,
on the edge of the
Tunnel of Shadows.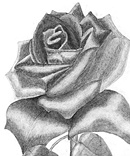 © Nghi L., Phoenix, AZ