Lyfe/:/Life
November 15, 2010
Is full of mistakes.
Full of unfairness and indecisive reasoning.
Withholds our memories for later times needed,
Keeping them for the best.
Through it's obstacles not many succeeded;
That is the most important test.

Is all about learning from our bad choices,
Always reminding us of times we can never retrive.
Forces us to be strong beyond belief.
We want our voices heard,
But they only blend with the world's empty echo.
Screaming it's meaning, wishing, hoping, for us to hear.
But some make it's pleas deaf to their ears.
They will always find reasons to wallow and cry,
But those who hear, always find a reason to laugh.

To be able to look back and re-make a new them in a moment.

To be able to look forward to the sky after the storm,
And to be able to look back and not mourn.

Is the loss and gain of joy.
Is about trusting our feelings and following them.

I don't know how life runs you, but;
The way I live, which not many understand,
Abides by a few things.
Make mistakes, learn from them.
In each lies a precious gem.
Erase people from the past,
(They don't really last,)
There's a reason why they didn't make it into your future.
True friends will always be connected by heart,
Never parting.
Never settle for less than what you deserve.
With reasons to cry,
Find more to smile.
Appreciate memories.
Make all actions and words count.
And, Lastly, live and express,
Remember absolutely, No Regrets.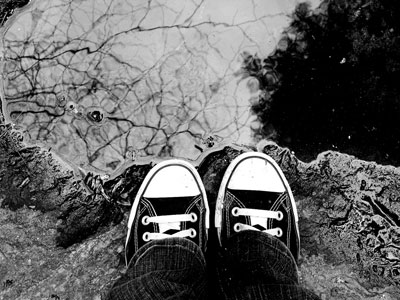 © Michelle B., Blairsville, GA