Jaguar Dream
November 14, 2010
While deep sleep seems to caress my cheek,
I have a dream I cannot begin to believe.

In this world I cannot understand,
there is a jaguar biting at my hand.

Though we share the air in this world so fair,
something is different in the way it breaths.

It's breath, labored and coarse,
but with mighty force,
seems strenuous to me.

When i ask it why, there is no reply,
just sad, sad eyes concealing a man.

Confused and shaken, i try to awaken,
only to find there is no way out.

You see this dream was not what it seems,
putting me in some doubt.

This man in the beast I cannot release,
brings fear into my heart.

I wish to help,
i long to set him free!

But...

How can i free this man I see,
if he cannot free himself?

This strange dream,
strange, strange dream,
is not what it seems.

This man is my friend,
who is at wits end,
and this beast is his last defense.

If only he could see,
if he let people help him,
he WOULD be free.

This is my Jaguar Dream.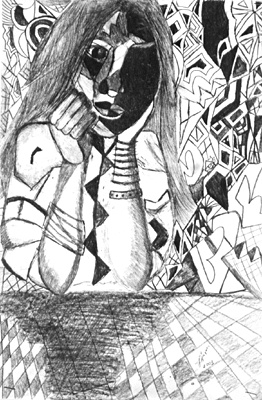 © Joy H., Kannapolis, NC