My Life In Black
November 12, 2010
My life is in black,
I cannot see the sun,
With every word you say to me,
The more monochromatic my mind becomes.

You fill my life with torture and hate,
With everyday that passes me,
I become more and more in pain.

I walk by like nothings wrong,
When deep inside I want to cry,
I can't even hear myself think
With all the words you're yelling at me.

I feel my soul escaping from what
Seems to be a fallen me,
When all I ever wanted in life,
Was to be a bird, and be free.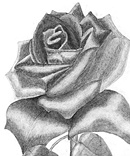 © Nghi L., Phoenix, AZ