Not My Time
November 10, 2010
Close my eyes and surrender to the darkness.
Wind pounds the window,
The thin barrier between fear and I.
My fears arise,
Search the night once more.

Still I lay,
Let my worries pass by.
I leave this realm,
And enter another with no sound.

Time is slower,
Minutes pass, instead of hours.
I must leave soon,
I may be trapped forever,
The gates to Earth may seal shut.

I would rather live here in fear, with no pain.
No thoughts or control,
But view life like a movie.

Not my time to live in this almost perfect place,
I have a choice.
I must decide soon.
I receive a feeling of dread when the image of large,
Metal gates appear before me.

This means it is time to make a decision,
I've made many times before.
Little time,
A big question to answer: Should I stay?

I remember those I love, my friends and family.
My dead grandmother appears before, me alive and well.
I think of all the goodness here and at home,
In comparison of which is better.


Over come with nightmares,
She stares at me,
Commanding me to leave.

I slip through the gates,
Open my eyes.
I replay the illusion that my mind has played on me.
I wish to return, so I close my eyes, though it has no effect.

I shall return again,
Feel rushed and worried in a new way.
Close my eyes to surrender to the darkness.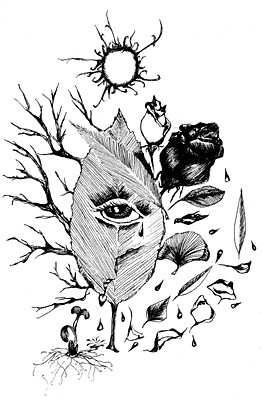 © Cara L., Cheney, WA