Primary Colors
November 2, 2010
It is said that she only paints with primary colors.

Red for the thin crimson blood that pours carelessly out of her wounded thoughts. Thoughts
she never cares to express.

Blue for the gracious sky. Open and excepting, unlike the people that surround her,
smother her rather. She day dreams of becoming lighter than air; simply vanishing away, as
if she was vapor.

Yellow for Polaris, the northern star. It always seems to lead her safely back inside her
mind, when she subconsciously drifts away in a thought bubble.

They say she forgets about her secondary hues, because the memories are just dead weight.

Green because it surrounds her, closes in around her. It is a deception. The pigment fails
to remind her to look up; up for the true escape.

Orange because it devours her contented thoughts, and replaces them with burnt images.
Images of the rebellious flames that stole his soul.

Purple because she can't fight the temptation as she stares deep into the constant
reminder. Her violet veins crave her razor blade.

When she paints, she paints in primaries, because secondary sources always lead her astray.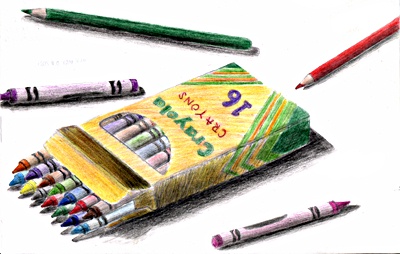 © Dana H., Wichita Falls, TX