Hold Me Back
November 4, 2010
Hold me back and stop me
from doing what I love.
Restrict me from leaping
to the lonely stars above.
Ignore myself, my searing pain,
my inner fire.
Bolt me down, handicap me,
from enacting my one and only desire.

I lie to myself,
tell me I don't care.
Inside I pray that this will soon end,
but tell anyone I do not dare.
Hiding from the truth but knowing it will soon find me.
That it always does no matter what.
It stalks and harasses me.
Punctures my heart.
Opens up a never healing wound.
But the world will never see my
internal pain
erupting from the darkest places in me.

To the world I am tough,
a warrior.
Inside I am frail and weak.
I act a little soldier,
while inside I hold back tears,
never allowing them to leak.

I am strong and tough and rigid
or so I say I am.
My eyes, a shield from the people
covering the pain of my internal implosion.
The pain worse than having been
struck by lightning.
And still I refuse to let my eyes tear,
or show any emotion.

This couldn't be worse timing.
My life was going great.
I had been a star,
and loved by all.
Now it's easy to see,
that I am neither loved,
nor a star up above.
I wish this would no longer be.
Considering all of this is
driving me crazy.

Even if this madness stops
I'll never be what I was.
Never again will I stand and
be able to say I'm number one.
Never will I be the star of a victory.
Never again will I feel the feeling
of perfection rising in me.
I am done and long forgotten,
No one remembers me.
The battles I helped win,
a thing of the past.
I should have known that
in their minds
the memory of me would never
last.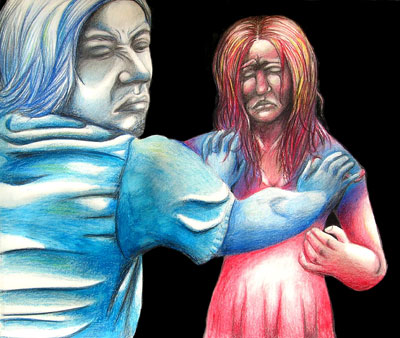 © Jessica P., Bethel Park, PA