Messiah
November 8, 2010
Messiah called his name in silence

whoosh of the leaves that shook

immortality in pieces, as to the pestilence

devouring the heart in every book



"Trust no more!" voices of the wilderness

vengeance is but the dead stars

flung in a half-forlorn hope in the west

for here is the Chaos, an outbreak of wars



people killing,people dying

share a heartstring for this momentum

"Pain!" a cry from afar in a ring

"Sorrow!" a shriek from a room

"Death!" a shout from the side

What a surrender to be on this pride



The Messiah stoop, almost knelt

He felt. He dwelt. He knelt. I am

with the dominion of the void

I am still in the Messiah's man



Frankly, I wish I were dead

When I left, I almost wept

with the chariot of the Argonaut

there is no more comfort



this is the apocalypse

Doomsday is still Paradise

in this overwhelming emotion in deeps

of the stolid faces of every price



Have you seen Thanatos

in his creepy dungeon to battle

against the Messiah in tempest-tost

countenance for He left His mettle



I can not feel any longer

that shade of emotion in voices

still a ghastly ghost of a father

of Hamlet. I can not see roses



Hear the ear-shattering murmurs

As they encompass the land and seas

Wearing the grin of Thanatos in his moors

A desolate island as it would cease



Is there still a place not to be scared?

Are you brave enough to be prepared?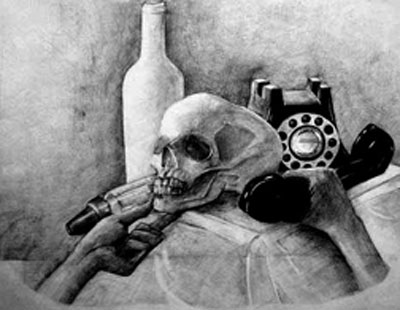 © Xiao H., Naperville, IL