FAMILY!
November 1, 2010
FAMILY!
My family is strong.
We are like the only house standing
after a tornado.

Damaged but still strong.
My dad is a tree striving for sun.
Bending anyway to please.

Independent is my mother
she will fight for anything
until she achieves it.

Susannah is the wind,
Finding ways to stay powerful
With all the barriers.

Tough, never being pushed around,
A hunter, my brother, Richard.

And me, Michelle.
I am the first fall leaf.
Always standing out and being me. A person.
We are crazy, unique, fun, loving, a family.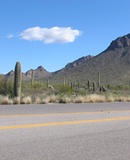 © Aleksandra K., Tucson, AZ