Poem of the Century
October 28, 2010
The dusty road, lays ahead.
In the shadows of trees.
With sun escaping,
through the leaves.
This road I take, far from home.
To get to a place, I don't know.
Passing by nothing true,
for time and time again.
As I go along
this road, not knowing
where to go.
It seems I have found my home,
on this dusty road.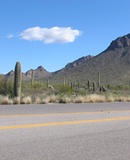 © Aleksandra K., Tucson, AZ