Thoughts Lead to Actions
October 27, 2010
How hopeless must life be
When it develops into a wound,
That not even death could heal.

For if suicide is a sin,
Then you should know.
What's waiting on the other side?

Only when you realize this,
Will you fully see death solely,
As failure to live.

When Hell's demons appear to call
To devour,
To heave you down
Into a world of misery as you pass on.
You'll be imploring the taste of death all over again.

These are the things haunting your thoughts
As you look
Down,
Down,
Down
Onto the sleeping city below.
A city that is now forty-seven stories
Beneath where you stand.

It's all about to be over,
Until the rain seeps down
From these sunless skies.
Suddenly,
Gleaming drops of liquid life
Rush in streams
Over your frozen, suffering body.

You think about how happy you were
When you were little.
Laughing,
Playing with friends
Out in the rain.
You think 'I bet I could feel that way again…'
Then you quickly remind yourself,
You haven't felt that way for years.

Then suddenly,
You realize.
This one moment,
This one action,
Will ruin all the other moments,
Dreams,
And actions
Yet to come.

Remembering how long you've been waiting,
Dreaming
Of these final seconds.
You've made up your mind.


And as you look up
Towards the stars,
Your foot rises.
Takes that one step,
That will change everything…

The other foot follows,
Backwards,
Onto the top
Of the building.

Standing there,
You smile to yourself
And lie down,
On the cold
Rooftop.

You're still looking up
At the stars
When you fall asleep.
To envision
The first,
Of countless more
Dreams.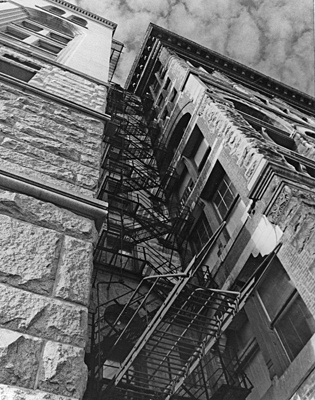 © Eric H., Lafayette, IN