Love Me
October 23, 2010
Come forth and take my hand.
And through the night's cool breeze,
Follow me with ease.
We'll wander through this warm, damp land;
Walking hand in hand.

Your eyes are bold with light,
And Your smile contagious.
Your bright face lights up the night,
Your personality is outrageous.

I don't want this night to ever end,
For this is just the beginning.
I want to be loved by you, more than just a friend.
For when I am with you my heart is always singing.

Dance with me a slow, amorous dance,
To the music of our beating hearts.
The meeting of our eyes puts me into a trance,
I knew I loved you from the start.

Lay with me till evening turns to dawn,
My head rests on your soft chest.
And My heart breaks into song,
As we enjoy each other's presence and rest.

Your smooth, warm hands are interlocked with mine,
And My lips are pressed against yours.
This moment with you is splendid, divine.
When I'm with you, I feel as if I can fly, soar.

Your voice sets deep into my head,
As your warm breath exhales into the thin cool air.
For you, my tears have shed, and my heart has bled.
You are the reason I am shattered and in despair.

But for some reason, I can't get enough of you.
Your presence brings a smile to my face.
No one makes me feel this way but you.
I'm comforted by your touch and warm embrace.

You're all I need in my life, all I need to smile.
I just wish you felt this way about me too.
For I have had these feelings for a while;
I never believed in love at first sight until I met you.
I simply love you.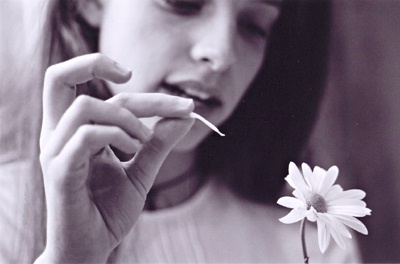 © Emily B., Houston, TX